SOME THINGS IN LIFE ARE BEYOND REPAIR
The only complete warranty plan of the region.
This Extended Warranty Plan applies to the parts and labour with respect to the product stated on the Sharaf DG invoice for electrical and mechanical defects only. The Extended Warranty Plan extends the warranty for the period stated on the invoice commencing on the date of expiration of the manufacturer's warranty.
Buy an extended warranty and get product replacement guarantee on all your purchases
Product refers from authorized service centers carried out free of cost to its normal operating condition after it has suffered a covered failure.
The benefits of this plan can be availed in any Sharaf DG store in UAE / Oman & Bahrain. Applicable on purchases from 10th March 2022 only.
This Extended Warranty Program covers the labour, parts and associated charges, including transportation costs toward repair and re-installation of the appliance on site, necessary to repair the product, subject to the exclusions listed as below.

Replacement Guarantee During Manufacturer's Warranty
Replacement guarantee for manufacturer defects during manufacturer's warranty is subject to verification by authorized service centers. Software malfunctioning, accidental damages (such as drops, spills & liquid immersion), defects arising out of natural calamities, product resetting/ readjustments or any consumable part replacement will not be covered under replacement plan. Store display, open products & End of life products are not eligible for EW replacement plan.
The verification process and transaction will take fifteen business days.
Note:
Replacement will be only once during the manufacturer's warranty period. However, extended warranty will be covered on the exchanged product.

In cases of nonstock availability only Gift Card to be issued.

Customers in GCC countries will be offered gift cards or online gift cards as applicable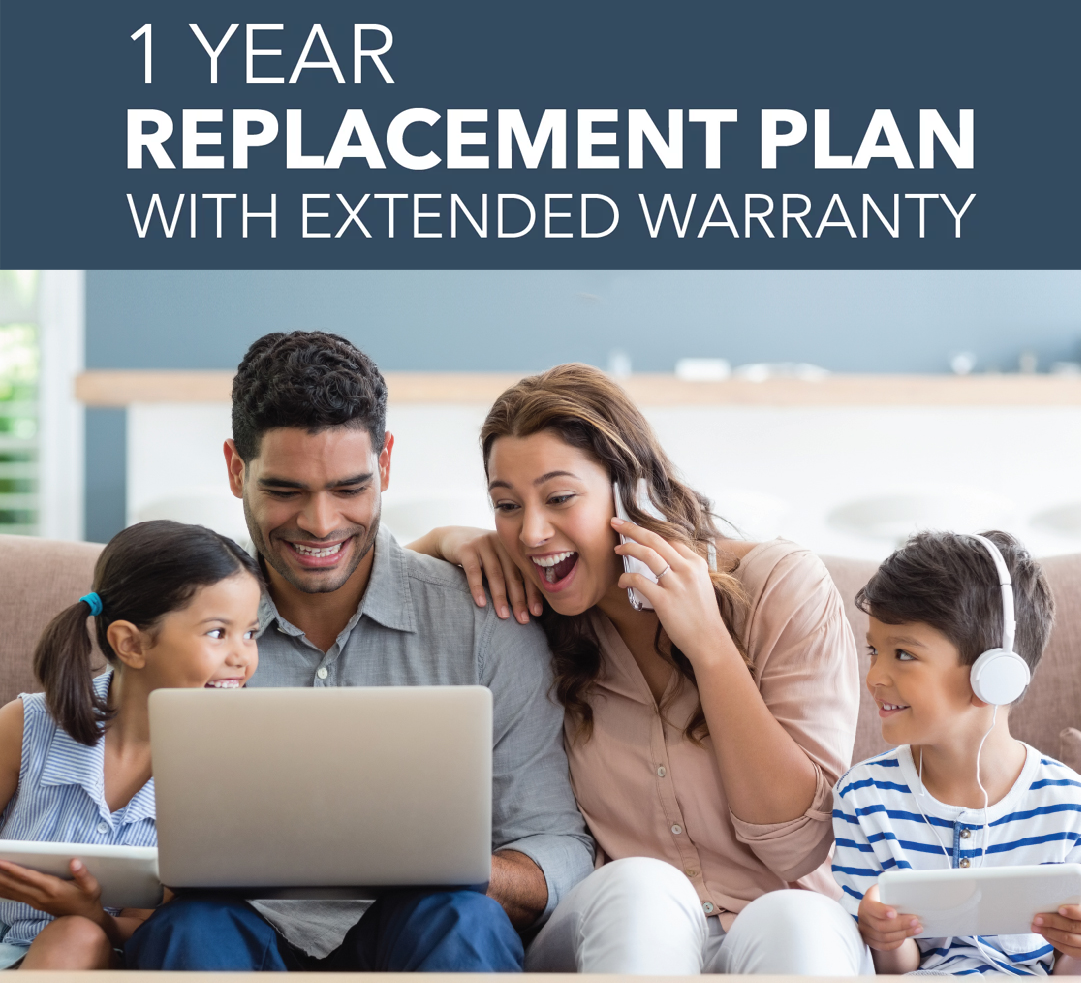 General Terms & Conditions
During EW period, If the unit is beyond economical repair replacement/Gift Card will be issued. EW will be cancelled with Replacement/Gift Card

In case if the product is unrepairable, extended warranty will cover the cost of replacement of the product by replacing the product with similar product or through gift vouchers of the same value upon customer paying 14% of the original invoice value during the 1st year, 24% of the invoice value during the 2nd year and 34% of the invoice value for 3rd year, towards service charges.

Customer will be charged 9% handling fee of the product value for products which will be replaced under extended warranty replacement guarantee scheme. (%9 from invoiced product value excluding instant redemptions at the time of purchase)

This program is offered by National Takaful Co. PSC Watania and administered directly or through agents.
Accessories are not covered.

When the serial/model number of the set has been tampered with or removed and any unauthorized repairs performed by third parties.

Any loss affecting SIM card, accessories, ancillary product, etc. even if the equipment stops working completely. Loss or damage to recording media, software or data. Software defects or software generated problems including the operating system and third party software or the reloading software.

Loss or damage caused by wear and tear or normal deterioration. Cosmetic damage including but not limited to damage to paintwork, dents or scratches and costs due to rust and corrosion.

Reception or transmission problems resulting from external causes/perils.

No liability is accepted towards losses which are covered under the electronics appliance manufacturer's warranty, including any food or medicine loss due to product failure.

Any defect that is initially not covered by the manufacturer or supplier warranty. Incomplete installation, excessive or improper usage, negligence, transit/transportation damage and willful misuse, routine maintenance, cleaning, lubrications, adjustments, alignments, overhaul, modification and de-scaling, wrong power supply, video head cleaning, stains or any problem with supply of gas or water.

Any loss incurred due to loaning the insured equipment to a third party, transfer of ownership or sales return of any appliance, which has been used for commercial or rental purposes.

Modification/alteration of any sort made to circuitry, original design of the appliance. Appliances being recalled by the manufacturer. Claims arising from the failure to follow manufacturer's instructions. Any loss or damage to a person or property, direct, consequential or incidental damages arising from the use of or inability to use the appliance.

Video/audio heads, plugs, control knobs, connecting cords, remote control, cartridges, cabinets, smart cards, dust bags, air/water filters, fuses, light bulbs, fluorescent tubes, related starters, attachments, light covers, rain covers, belts, print heads, drums, batteries (in built and external), cables, adaptors, evaporator coils, condenser coils, gas charging, circuit breakers, voltage stabilizers, scanners, remote controls, sheet metal parts, thermocol parts, all plastic parts and other consumables as applicable.

Labor costs will not be covered:

for parts not eligible under extended warranty

if no faults are found in the device(s) / appliance(s)
Loss arising due to unlawful intentional act or willful neglect.

Coverage is only provided on split and window air-conditioners with up to 3-ton capacity & electronics value up to AED25,000

Any consequence of war, invasion, act of foreign enemy, hostilities (whether war be declared or not), civil war rebellion, revolution, insurrection, mutiny, riot, strike, lock out, civil commotion, military or usurped power, acts of a group of malicious persons or persons acting in behalf of or in connection with any political organization, conspiracy, confiscation, commandeering, requisition or destruction of or damage to property by order of any government de jure or de facto or by any public authority. Any consequence of nuclear reaction, nuclear radiation or radioactive contamination. Loss arising due to unlawful intentional act or willful neglect, loss or damage caused by extraneous perils such as fire, explosion, flood, earthquake, sand or other natural calamities, voltage fluctuations, theft, attempted theft, malicious damage.

Any service not expressly described in this Service Description.
Cancellations of this Extended Warranty Plan may be made by the purchaser within 7 days from the date of purchase for any reason upon the original Sharaf DG invoice at Sharaf DG Customer Care.
Fraud: All benefits of this Extended warranty is lost if a fraudulent declaration or claim is made.
For detailed terms and conditions and to know more about the EW Plan: